France, Japan, and New Zealand warn of spam surge by Emotet
In recent months, cybersecurity agencies in France, Japan, and New Zealand have issued warnings regarding a significant increase in spam campaigns associated with the notorious malware Emotet. Emotet is a sophisticated and highly adaptable malware that poses a severe threat to individuals, businesses, and governments worldwide. In this article, we will delve into the recent spam surge and discuss the dangers of Emotet, as well as provide practical tips to protect yourself from this malicious software.
Introduction
Emotet has long been a concern for cybersecurity experts due to its ability to evade detection and continually evolve its tactics. It is primarily distributed through spam emails, often disguised as legitimate messages containing malicious attachments or links. Once a system is infected, Emotet can wreak havoc by stealing sensitive information, distributing additional malware, and even compromising entire networks. The recent surge in spam campaigns has raised alarm bells in France, Japan, and New Zealand, prompting authorities to issue public warnings and urge individuals and organizations to be vigilant.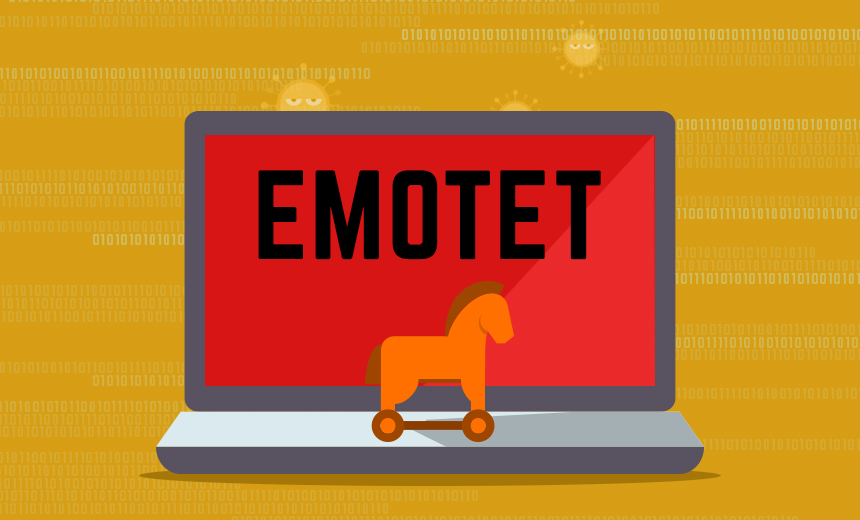 What is Emotet?
Emotet is a sophisticated Trojan malware that was first identified in 2014. Over the years, it has evolved into a complex and adaptable threat, capable of bypassing traditional security measures. It primarily functions as a downloader, capable of retrieving and installing other malware onto infected systems. Emotet is known for its polymorphic nature, which allows it to change its code and evade antivirus detection, making it challenging to detect and remove.
Recent Spam Surge
1. France's Warning
France's National Cybersecurity Agency (ANSSI) recently issued an alert regarding a significant surge in Emotet-related spam campaigns. These campaigns utilize various social engineering techniques to trick users into opening malicious attachments or clicking on malicious links. ANSSI has urged individuals and organizations to exercise caution and implement robust security measures to mitigate the risk of infection.
2. Japan's Warning
The Japan Computer Emergency Response Team Coordination Center (JPCERT/CC) has also raised concerns about the growing threat of Emotet spam campaigns. They have observed an increase in phishing emails containing Emotet malware, targeting both individuals and businesses in Japan. JPCERT/CC has advised users to be wary of unsolicited emails and to refrain from opening attachments or clicking on suspicious links.
3. New Zealand's Warning
In New Zealand, the Computer Emergency Response Team (CERT NZ) has issued warnings regarding Emotet's resurgence. They have reported a surge in Emotet-related spam emails targeting organizations across various sectors. CERT NZ has stressed the importance of robust security measures, employee awareness training, and incident response planning to mitigate the risks posed by Emotet.

How Emotet Spreads
Emotet primarily spreads through spam emails, leveraging social engineering techniques to entice recipients into opening malicious attachments or clicking on malicious links. These emails often appear to be legitimate, mimicking reputable organizations or individuals. Once a user interacts with the malicious content, Emotet can infiltrate the system and establish a foothold for further malicious activities. It can also propagate through a network, compromising other connected devices and spreading its reach.
Dangers of Emotet
Emotet presents several dangers to individuals and organizations alike. Here are some of the significant risks associated with this malware:
1. Financial Loss
Emotet can lead to significant financial loss for individuals and businesses. Once installed, it can harvest sensitive information, such as banking credentials and credit card details. This information can then be exploited by cybercriminals for fraudulent activities, resulting in financial damages.
2. Data Theft
Emotet is capable of stealing personal and sensitive data stored on infected systems. This can include personally identifiable information, confidential business data, or intellectual property. The stolen data can be used for identity theft, corporate espionage, or sold on the dark web, causing severe harm to individuals and organizations.
3. Malware Distribution
Emotet is not only a threat on its own but also serves as a distribution platform for other types of malware. It can download and install additional malicious software, such as ransomware or banking Trojans, onto infected systems. This can lead to further compromise, data loss, and potential extortion.

Protecting Yourself from Emotet
While Emotet poses a significant threat, there are proactive steps you can take to protect yourself and your organization:
1. Keep Your Software Updated
Regularly update your operating system, antivirus software, web browsers, and other applications. Software updates often include security patches that address known vulnerabilities, making it harder for malware like Emotet to exploit your system.
2. Exercise Caution with Email Attachments
Be vigilant when receiving emails, especially those with attachments or links. Avoid opening attachments or clicking on links from unfamiliar or suspicious sources. Verify the legitimacy of the email and its sender before interacting with any attachments.
3. Use Robust Antivirus Software
Invest in reputable antivirus software and keep it updated. Antivirus programs can detect and block known malware, including Emotet. Regularly scan your system for potential threats and follow any recommendations provided by the antivirus software.
4. Enable Two-Factor Authentication
Implement two-factor authentication (2FA) wherever possible, especially for critical accounts such as email and banking. 2FA adds an extra layer of security by requiring a second form of verification, such as a unique code sent to your mobile device, in addition to your password.
Conclusion
The recent surge in Emotet-related spam campaigns has raised concerns in France, Japan, and New Zealand. Emotet poses significant risks, including financial loss, data theft, and the distribution of additional malware. By staying vigilant, implementing robust security measures, and following best practices, you can significantly reduce the risk of falling victim to Emotet. Regularly update your software, exercise caution with email attachments, use reputable antivirus software, and enable two-factor authentication. By taking these proactive steps, you can protect yourself and help mitigate the threat posed by Emotet.
FAQs
Q: Can Emotet infect both personal and business systems?
A: Yes, Emotet can infect both personal and business systems. It targets individuals and organizations indiscriminately, making everyone susceptible to its threats.
Q: Is Emotet limited to spam campaigns or can it spread through other means?
A: While Emotet primarily spreads through spam campaigns, it can also propagate through infected networks and exploit vulnerable systems.
Q: Can Emotet be removed with standard antivirus software?
A: Emotet's ability to evade detection and continually evolve its tactics makes it challenging to remove with standard antivirus software. It often requires specialized tools and the expertise of cybersecurity professionals.
Q: Are there any decryption tools available for Emotet-encrypted files?
A: In some cases, cybersecurity researchers have developed decryption tools for specific versions of Emotet. However, decryption may not always be possible, and prevention through regular backups is the best defense against data loss.
Q: What should I do if I suspect my system is infected with Emotet?
A: If you suspect your system is infected with Emotet, immediately disconnect it from the network and seek professional assistance from a reputable cybersecurity firm or your IT department.
Henceforth, WE WISH TO ANNOUNCE THAT OUR SERVICES ARE NOT AVAILABLE TO PEOPLE FROM NIGERIA AND INDIA. THESE ARE USELESS TIME WASTERS AND THIEVES TRYING TO BEG OR SCAM US OF OUR PRODUCTS. OUR SERVICES ARE NOT FREE AND PAYMENT IS UPFRONT

A LOT OF FOOLS FROM NIGERIA AND INDIA. on the off chance that YOU DON'T TRUST TO USE OUR SERVICES, DON'T CONTACT US AS WE HAVE NO FREE SERVICE
HI BUYERS, WE ARE A PROFESSIONAL CARDING AND HACKING TEAM. HOVATOOLS HAS BEEN AROUND SINCE THE TIME OF EVO MARKET, ALPHABAY, WALLSTREET MARKET AND MORE. WE REMAIN STRONG AND RELIABLE IN THE INDUSTRY, ALWAYS PROVIDING YOU WITH THE BEST QUALITY TOOLS TO HELP YOU MAKE MONEY AND MAXIMIZE PROFIT IN THE FRAUD GAME.
TO GET STARTED, YOU CAN VISIT OUR ONLINE SHOP/STORE TO BUY EVERYTHING YOU NEED TO START CASHING OUT.  AT THE SHOP YOU GET Accounts & Bank Drops CVV & CARDS DUMPS PERSONAL INFORMATION & SCAN.
BANK HACKING SOFTWARE – WIRE/ACH DARKWEB MONEY TRANSFER HACKERS
Buy Fresh Credit Cards for Carding, BIN LIST Buy Bank Login, RDP, Buy Hacked Paypal accounts. Contact us to buy all tools and carding software. CLICK HERE TO VISIT OUR SHOP
Buy Socks 5, Email Leads, Buy Latest CC to Bitcoin Cashout Guide, Buy Hacked Zelle transfer , Western Union Money Transfer Hack, Buy Hacked Money Transfer service to your bank account.
Enroll for Paid private Carding Class.